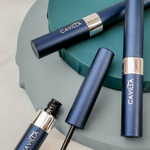 What you should know about Lash Growth Serum
Eyelash serums are the up and coming products on everyone's lips. But how exactly can using an eyelash serum boost the appearance of your lashes? Let's discover more ~
What is Lash Growth Serum?
Lash serums are growth boosting formulas that stimulate lash growth. Serums work on improving the health of the natural hair follicles. They are packed with conditioning peptides and fatty acids to stimulate and promote lash growth. When applied regularly, the lash serum extends the telogen phase of growth, lengthening the lash growth cycle. This will keep lashes stronger and thicker for longer.
How often should you use?
You can apply twice a day, every morning and night.
How should I use it?
It comes with a thin applicator brush. You just need to apply a thin layer on your upper eyeline once a day for the first week. Once your eyes are used to the serum, you can start to apply it twice a day from the second week onwards. 
Can I use it on my eyebrows?
Yes, definitely! You can use it on your eyebrows too, and it works very well!
Can the lash serum used with lash extensions?
Absolutely! Compatible with both extensions and natural lashes alike, Lash Strong is specifically formulated with vitamin, protein rich ingredients that work together to condition, strengthen and nourish natural lashes. Whether you are looking to take a break from extensions, want to lengthen and thicken you natural lashes to improve appearance, or you're looking to lengthen the growth cycle for better retention of your lash extensions, using a lash serum will do just the trick!
Are there negative side effects?
Some brands out there used to contain a drug ingredient called "Bimatoprost". It promotes lash growth, but it can cause discoloration. It is important for you to check if the lash growth serum that you are using contains such ingredient. In addition, always check if the lash growth serum has been certified. It is important to use a lash growth serum that has been certified to prove that it is completely safe to use.
Cavilla Lash Essence is one of the highly raved lash growth serum in the market and it is SGS internationally certified. It is completely safe to use, and many are coming back to purchase more ~ Get your hands on the serum today!